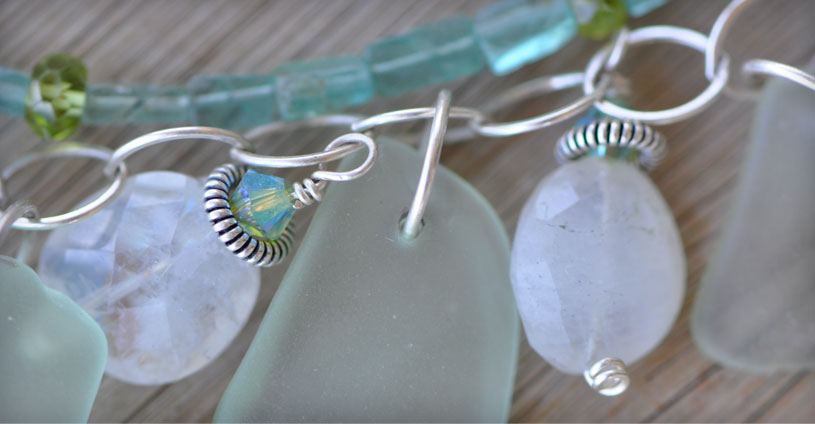 Designer Tish Knight
Tish Knight's fascination for beautiful rocks and stones began as a young child. She developed an eye for beauty and was always searching for pretty things in her path. Growing up in Southern California she discovered her favorite path for finding treasures was along the seashore. In her travels, her awareness and gratitude grew for the beauty of the earth and sea. Tish Knight creates jewelry inspired by the natural beauty of the world. Her designs often use gemstones that vary in cut and quality, from natural or rough cut to precision faceted cuts showing the amazing diversity, beauty and unique qualities of the gemstones.

Circle Blue Studios is her playground – gemstones in every hue, precious metals, rocks and shells, beads in many forms and…bluglass! Circle Blue Studios takes ordinary glass and refines it into little gems and calls it bluglass. Some is tumbled for many days and some is hand-cut and polished to maintain its transparent beauty. Little bits of bluglass make it into many of Tish Knights designs which represents the passion embedded in the mission of the studio. That mission is to create beautiful jewelry and chimes, create meaningful work for people in Haiti and America, and to be resourceful and responsible in protecting the world we all share.

Life for Tish, her husband and four children took a remarkable turn when they decided to adopt three children from Haiti. During the process of adoption, many trips to the island of Hispaniola were made. Those trips to Haiti changed her perspective and fueled a passion to do something. As the ideas came she focused on ways she could make a difference and help change the "stars" for people who live in poverty and in some of the most beautiful places on earth. Bluglass is the link between her passion for beautiful jewelry and her passion to create meaningful work for her artisans in Haiti. Through the process of changing ordinary glass to bluglass, work is created, useful bluglass gems are designed into beautiful jewelry adding something truly unique and rewarding.
In all of this, Tish has found courage to Live Life BOLDLY, to believe in her dreams, to create beauty and enjoy the blessings her family receives as they remain connected to good people living in Haiti.